www.ptreview.co.uk
Written on Modified on
A total of 230 guests from the fields of science, business and politics celebrated the founding of the new Eplan office in Shanghai, China, on 8 June. During the special ceremony, Eplan Managing Director Haluk Menderes spoke about the future of Eplan, which is the leading provider of engineering software solutions in Europe: "We will continue to grow in China – the conditions for it are excellent."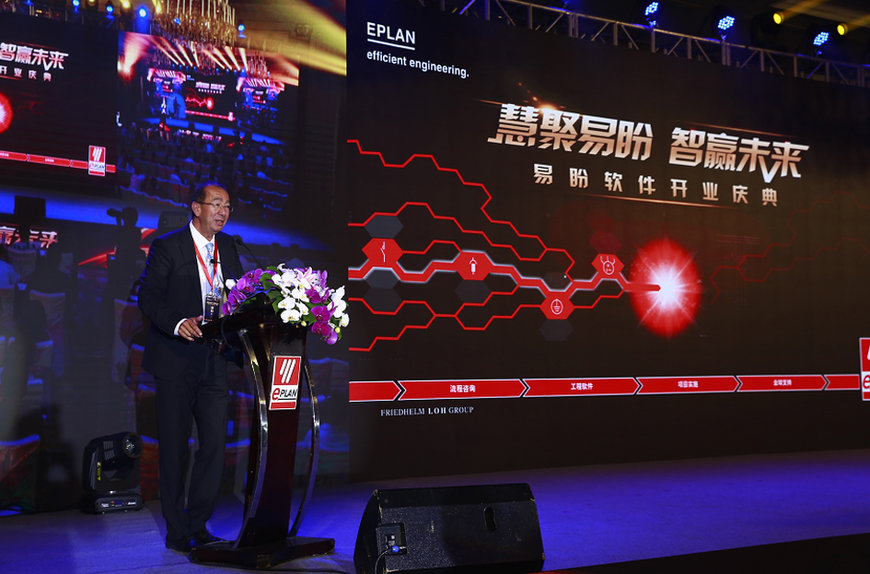 Haluk Menderes.jpg: "We will continue to grow in China – the conditions are excellent for it," said Eplan Managing Director Haluk Menderes during the opening celebration.
Eplan Greater China President Bill Qin began the impressive opening celebration in the Hongqiao Jin Jiang Hotel Shanghai with his keynote talk "Excellence Through Innovation." Providing an overview of digital manufactur-ing and current ideas for innovative engineering, he finds that industrial design will continue breaking down barriers while moving towards manufacturing. Eplan's goals in China are clear: Leading engineering design will advance smart manufacturing in the country.
In his presentation about smart engineering, Industry 4.0, and smart manufacturing, Eplan Managing Director Haluk Menderes spoke about the necessity of integrated processes – from engineering through to manufacturing. "China is superbly positioned for this and will continue driving innovation, smart engineering and Production 4.0 with our customers."

Experts discuss the future
Another highlight at the event was a roundtable discus-sion on "Digital Engineering Transformation," moderated by Dr Pei Huang, editor-in-chief of the e-works magazine and Yingzhang Pan, president of the online portal "gongkong.com." The expert group also included Profes-sor Ming Chen, deputy director of the Chinese-German University of Applied Sciences, and Daming Lu, vice president of the Chinese Mechanical Engineering Society. CISDI Electric Technology CEO Yanhua Peng and Haitian Group CIO Bin Qian spoke about topics including standardisation and modular engineering data, about the competitive position of German companies, and also about the definition of "new engineering" in China. Other participants of the moderated roundtable discussion included Jie Xiao, general manager of Vogel Business Media in China, and Eplan Vice President Asia-Pacific Dr Carsten Metelmann.
Figures, data, facts
Eplan has been present in China since 2005 and continues to grow, with more than fifty employees in ten offices, including Shanghai, Beijing, Chengdu and Shenzhen. The Chinese offices focus especially on mechanical engineering, the automotive industry and energy technology, a field that that is growing strongly in almost all business segments. Chinese companies such as Shanghai Electric, Chery and CRRC rely on Eplan's solutions expertise as do other global players in the market. Working with control cabinet and IT solutions provider Rittal and automation specialist Rittal Automation Systems, both Eplan affiliates within the Friedhelm Loh Group, the companies have unparalleled offerings for control cabinet and switchgear manufacturers on the Chinese market.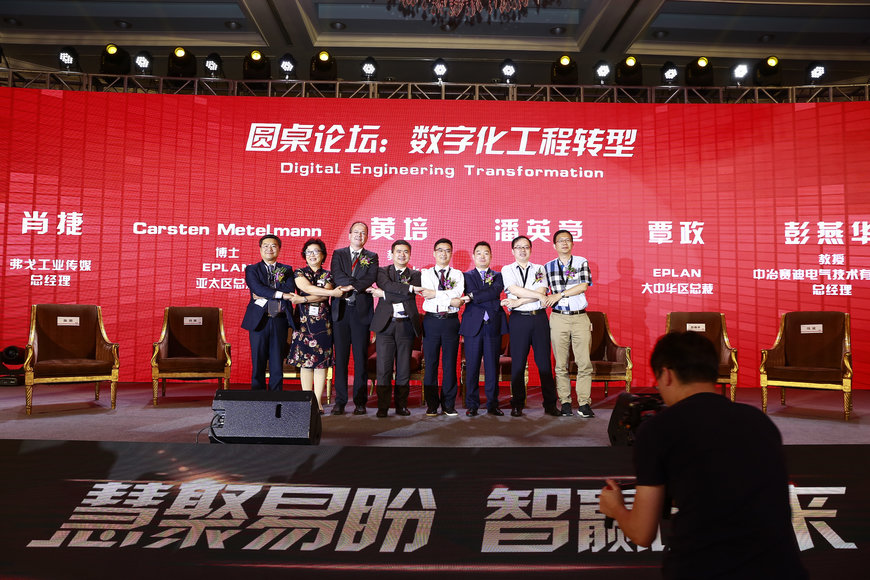 Roundtable: The experts at the roundtable discussion on "Digital Engineering Transformation" are (from left to right) Ming Chen, Jie Xiao, Dr Carsten Metelmann, Dr Pei Huang, Yingzhang Pan, Bill Qin, Yanhua Peng and Bin Qian.