www.ptreview.co.uk
Written on Modified on
SCHUNK was all about starting stimulating talks. The application expert demonstrated the wide range of its automation know-how using innovative approaches to handling and processing. The leading trade show for intelligent automation and robotics presented itself as a guiding light for the industry.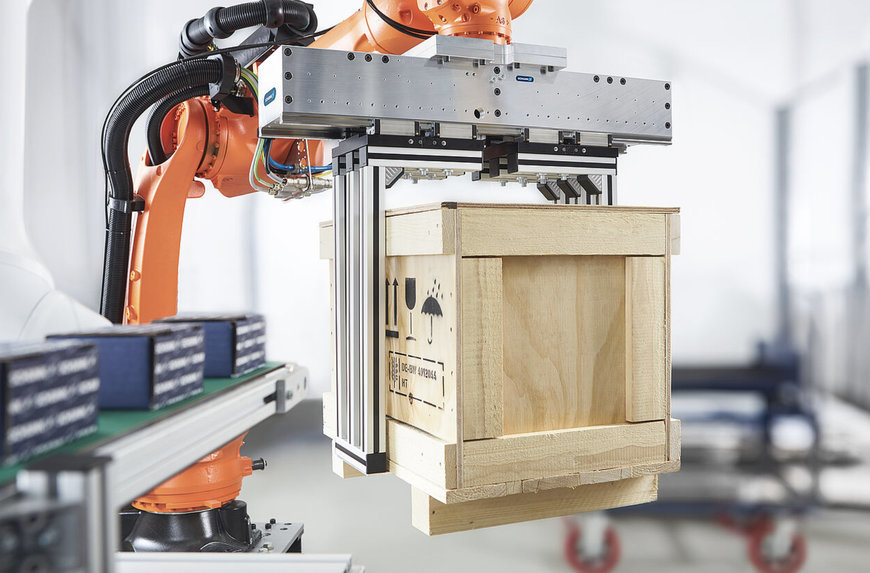 Where to, automation industry? The four-day automatica trade show in Munich provided answers, but also raised new and pressing questions. SCHUNK presented itself publicly at the event for the first time under the new tagline, "Hand in hand for tomorrow", which is indicative of the path the family-owned company is taking. The automation industry is changing and picking up speed due to increasing modularization, open interfaces and easy accessibility. The automation expert wants to actively shape this change together with customers and partners and drive it forward – with new automation concepts, industry solutions and digital services.
Pneumatics fit for the future

For example, SCHUNK had several new pneumatic actuators in tow in Munich, technology that will continue to be crucial in many areas in the future due to its robustness and process reliability. To this end, SCHUNK has put all its experience into the development of digital tools that will significantly reduce the time and effort required for planning and purchasing in the future. New browser-based, license-free configurators can already be used to individually plan, integrate and order pneumatic SCHUNK grippers and gripper fingers directly in the web store. Electric grippers and adapter plates will soon be included as well. Visitors were able to test the new gripper configurator for the long-stroke gripper PLG, which was being presented for the very first time, and put together the gripper of their choice live in just 10 minutes. The new pneumatic powerhouse, with an impressive stroke of 400 mm per side, is particularly interesting for large handling tasks in the packaging, automotive, white goods or logistics sectors. Technological advancement and digital features are also found in the new, pneumatic universal gripper PGL-plus-P. It is the first of its kind to have functional safety on board as standard thanks to its certified, safe GripGuard gripping force maintenance and integrated IOL sensor system.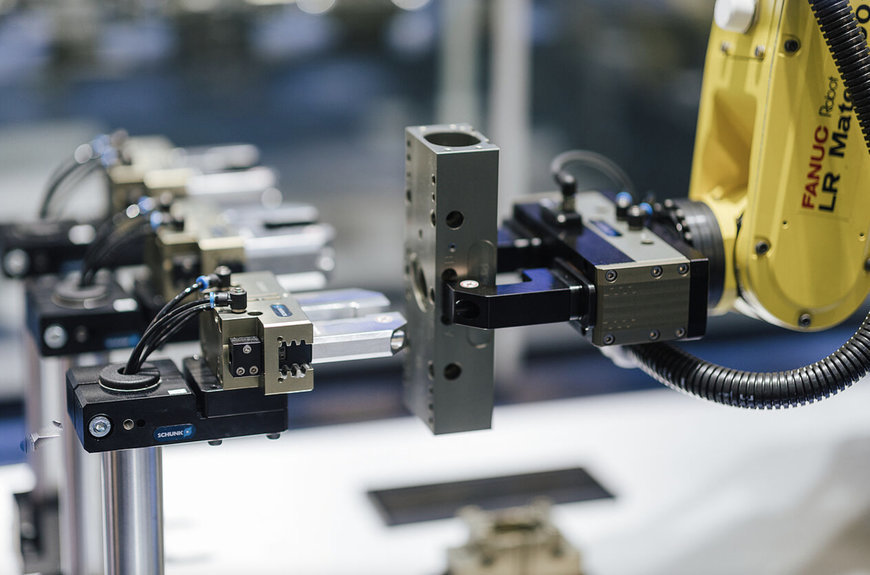 Grip like a gecko

SCHUNK offered an impression of the range of automation possibilities with different moving exhibits for pneumatic, electric, magnetic and adhesive handling. After a long hiatus from trade fairs, visitors were able to see for themselves the sophisticated and multiple award-winning ADHESO gripping technology for the first time. The bio-inspired gecko grippers do not consume any energy. As if it were only natural, curious visitors picked up the adhesive grippers and tested them on various objects, some of which they had brought along themselves. Automation approaches can also be found in other areas. This is because robots not only load and unload machines and help with assembly, they also take on unpopular but crucial machining tasks such as deburring, grinding or polishing. The automation expert gave live demonstrations of how this works several times a day. With R-EMENDO tools, numerous tasks can be automatically linked directly to the machining process in the machine tool.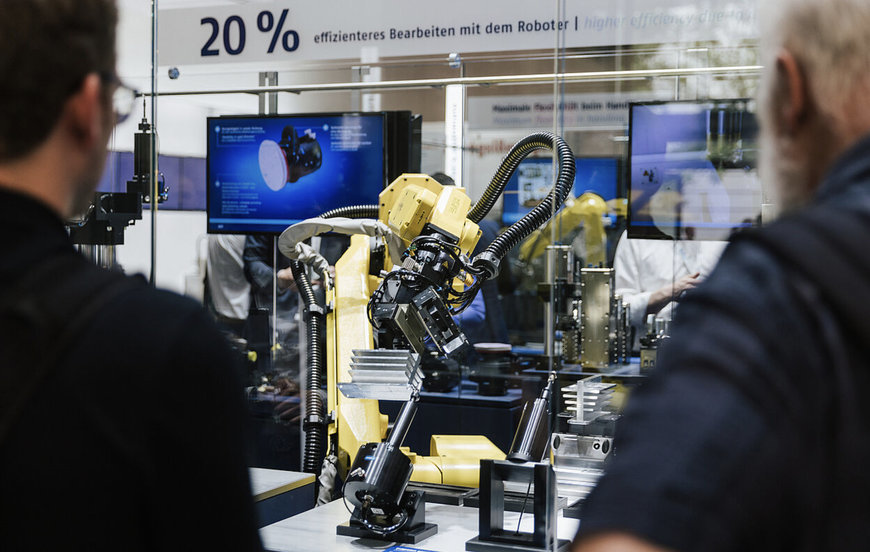 The experts gather

In addition to the presentation of innovative product technologies, one thing was more important than ever before: exchanging ideas. A discussion among experts, which brought together representatives from a wide range of automation fields, provided the framework for this exchange. Under the motto "Enable Automation", start-ups, robot manufacturers, system integrators and platforms joined SCHUNK to discuss future challenges and design options for the growing automation sector. The roundtable, initiated by SCHUNK, was moderated by Armin Barnitzke, Editor-in-chief of the trade journal Automationspraxis. The participants agreed: in the future, the focus has to be more on customers and their needs. This new idea is already being lived out in SCHUNK's CoLabs, as SCHUNK COO Johannes Ketterer explained: "The sole purpose of our CoLabs is to make automation possible. With agility and standardized components, we create a proof of concept and show newcomers to automation that their current manual processes can in principle be automated. This not only reduces the technical risk, but also the barriers that our customers face in beginning with automation."
The idea of making knowledge as easily accessible as possible is also guiding automation platforms such as Unchained Robotics, whose CEO Mladen Milicevic was also part of the roundtable. Other participants included Katja Butterweck, Global Product Specialist at ABB, Dr. Rüdiger Brockmann, CTO and CSO of Zeltwanger, Dirk Engelbrecht, CEO of andugo, and Thomas Retzlaff, VP Partner Development and Ecosystems at Wandelbots. The open exchange not only impressively showed which approaches the different players are pursuing, but also above all that in the future, cooperation will be the number one prerequisite for successful automation.
www.schunk.com