www.ptreview.co.uk
Written on Modified on
Bosch Rexroth will be unveiling a new Hägglunds drive unit specially developed for rubber machines at the 2022 International Rubber Conference in Nuremberg. It is designed to significantly reduce energy consumption and hence also reduce CO2 emissions as part of daily operations. Similarly to an electromechanical drive, the pre-assembled and tested drive unit can be connected to the shaft in any installation position. Six sizes cover all standard mill sizes.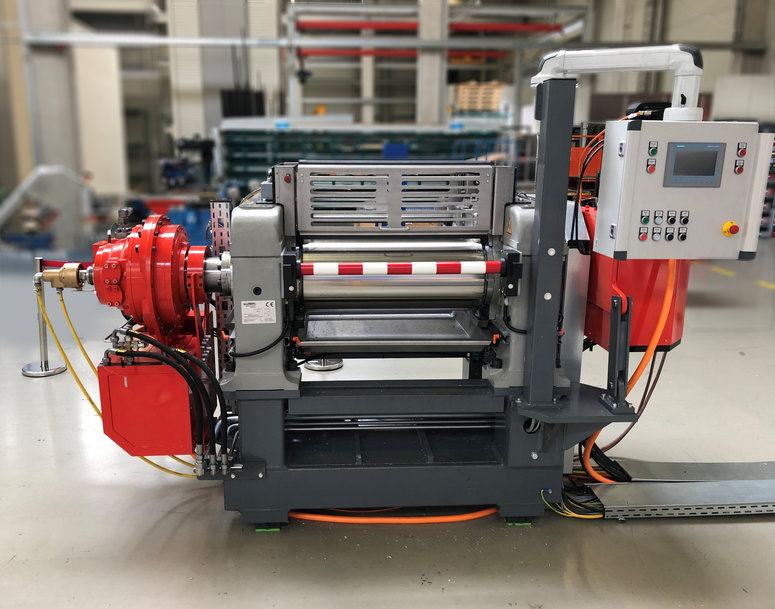 Pre-assembled and tested Hägglunds drive unit for rubber mixing mills of all standard sizes.

Significantly reduced CO2 emissions thanks to demand-based power output.
The new drive unit provides the necessary torques for producing rubber compounds based on demand and restricts the electrical installed power to the required level. The developers combined a servo motor with a hydrostatic transmission. Together with a radial piston motor, the adjustable axial piston pump acts as an automatic, continuously adjustable transmission. Based on demand, the frequency converter can reduce the servo motor's speed down to zero. As such, the drive can make a significant contribution to helping users improve their energy management in accordance with DIN 50001 and hence reduce CO2 emissions.
Bosch Rexroth pre-assembles the drive unit in six sizes, tests it and delivers it as a plug-and-play solution. The commissioning process corresponds to that of an electromechanical drive. The unit can be easily connected to the shaft in any installation position. The dual-channel safety circuit meets and even surpasses the requirements of DIN 1417 and sets new standards in terms of cut-off response. The rollers are stopped with a braking angle of just six degrees without suffering any wear.
The drive unit is maintenance-free and self-monitoring. It autonomously maintains the optimum operating points for mixing. The drive is very quiet during the mixing process. The average noise emissions are well below 80 dB(A).
www.boschrexroth.com