www.ptreview.co.uk
Written on Modified on
The manufacturing industry holds a key position in the life science sector. After all, when manufacturing sensitive products that come into direct contact with people, reliable system components are an absolute must. Right in the thick of it: High-tech components from SCHUNK. They meet the requirements for manufacturing quality and reliability. For more than 30 years, the family-owned company has been supplying customers from the medical technology and laboratory automation sectors with standard products and customized solutions.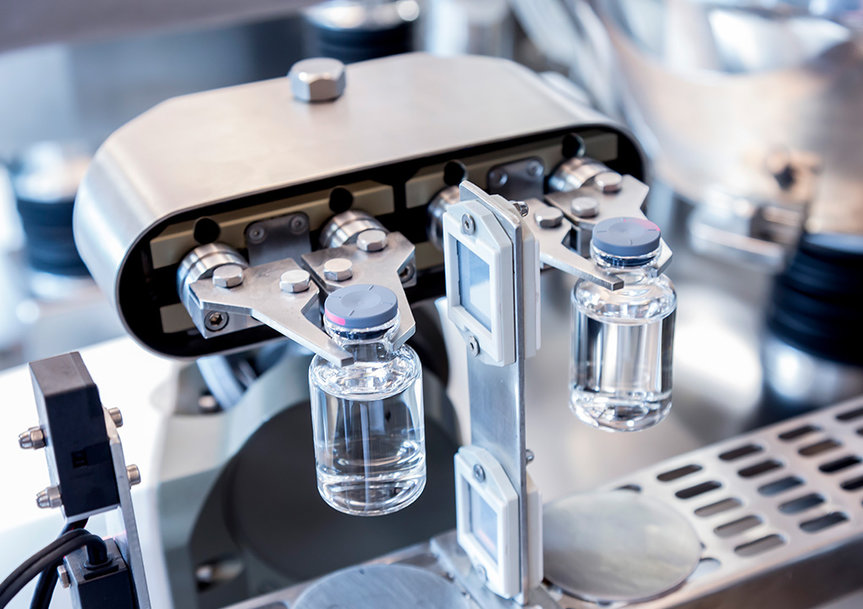 In the "Science of Life" – biotechnology, medical technology and the pharmaceutical industry all work together. This multi-discipline collaboration works towards developing new medical technology products, treatment methods and medicines. A future with greater health and safety – that is the goal. The industry is confident that it is future- and crisis-proof. Industrial automation is becoming increasingly important in this area. This is because life science companies have to master both the highest standards for product quality as well as the increasing range of topics – not to mention high efficiency and cost constraints. In other words, the need to drive productivity and profitability is increasing.
Life-Science partner with application know-how

As an experienced automation specialist and technology supplier of robots and production machines with a worldwide sales network, SCHUNK is a reliable partner for plant manufacturers and automation companies, especially for the life science sectors MedDevices, MedTech, Lab Automation and Pharma. The family-owned company SCHUNK has been active in these industry segments for more than 30 years. In the future, SCHUNK mechatronic components will be utilized here in particular, because they can be applied with virtually any standard laboratory equipment and can be flexibly adapted to the respective customer requirements.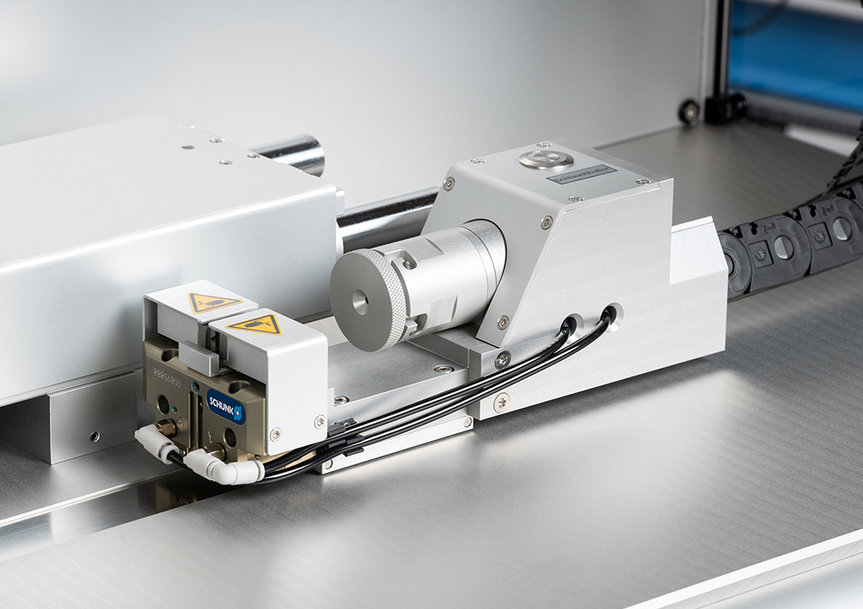 SCHUNK's life science portfolio includes grippers, rotary modules, linear modules as well as sensor components and robot accessories. Due to its extensive application experience, SCHUNK already offers ISO cleanroom-certified components, components configured with H1 greases (FDA certificate), ATEX products and protective covers in its standard portfolio. Proven existing products such as the high-performance parallel gripper PGN-plus-P and the miniature gripper MGP-plus have been optimized for medical use. In addition to the standard products, SCHUNK also offers modified versions and customer solutions tailored to specific requirements. A team of specialists implements individual automation applications from planning to certification in close cooperation with the customer.
Mike Mayer, Director Global Key Account Management, provides information on where the challenges and opportunities currently lie.

Why is the manufacture of medical technology equipment and products so demanding?
Because in this case the production environments are different from other industrial environments. Manufacturing facilities in the MedDevices, MedTech, Lab Automation and Pharma industry segments are subject to numerous rigorous guidelines. All equipment, products and materials used here have to meet specific requirements and standards. Because ultimately it is all about products directly for people, their health, and their safety.
What are the specific requirements?
Strict hygiene regulations and cleanroom standards apply, for example ISO standard 14644-1 and VDI guideline 2083, which supplements the ISO standard. This specifies practical aspects and industry-specific peculiarities, such as special requirements for the cleanliness of the room, process media, employees, and the workplace. The automation components must be able to withstand temperature fluctuations, high mechanical stresses, or even toxic substances in some cases. For example, machine tools for manufacturing implants and surgical instruments need to work precisely and reliably even under extreme conditions. There is no room for failure here!
Are the guidelines for the life science industries universal?

Yes, they are. Strict legal regulations apply, for example the new European Medical Devices Regulation, the Medical Device Law Implementation Act (MPDG), the ATEX Directive for potentially explosive atmospheres, and various necessary ISO certifications. The SCHUNK portfolio already partially meets these requirements in the standard version.
What are the benefits for plant manufacturers who produce machines for manufacturing medical technology products when they use SCHUNK components?

SCHUNK has outstanding expertise when it comes to robotics, automation, and assembly handling. Our customers benefit from this expertise. We are very familiar with the requirements of the life science industry and offer the right solution for all applications with our product and service portfolio. Our application know-how helps us to ensure that manufacturing processes in the life science industry run safely, reliably, economically and, above all, at a top level of quality.
What is SCHUNK's life science portfolio composed of specifically?

SCHUNK modules are cleanroom compatible and manufactured with the highest material quality. These ISO cleanroom-certified components configured with H1 greases – meaning lubrication is done with food-grade greases that are FDA-certified – are already available in our standard portfolio. We also provide ATEX products and protective covers. All of these long-lasting modules are characterized by dependability, process reliability and cost-effectiveness, especially for parts manufacturing in sensitive production environments.
SCHUNK is known as the world market leader for gripping systems and clamping technology for classic mechanical engineering. What bridges the gap to medical technology issues?

In the life science segments, scientific-medical know-how unites with top technology and industrial performance. This makes the partnership between the automation specialist SCHUNK and the life science industry ideal – in fact exemplary. Technological advances and medical successes always go hand in hand. And the current shift from analog to digital technologies is enabling new concepts and processes – not only in the manufacture of the devices themselves, but also in medical applications. Due to the digitalization of products and processes, SCHUNK mechatronic components in particular are gaining in importance, as increasingly intelligent features are offering new possibilities for individual adaptation and feedback.
Can you provide a specific example here?

SCHUNK provides a significant amount of support, for example, with sensor technology in operating rooms with the use of sensitive robot systems. Another example includes assistance systems for patient rehabilitation. For example, after a stroke, robots can help to train the human locomotor system. Here, SCHUNK FTN-AXIA80 sensors in the foot pedals of the training system take over the precise force/torque measurement and react to the smallest patient influences. They measure the force that the patient uses to engage the pedals and report the results back to the robot, enabling interactive rehabilitation programs.
What role do SCHUNK grippers play in the life science industry?

With its special features, the SCHUNK gripping system portfolio plays a very important role here. The adjustable gripping force, the gentle gripping via soft grip and the permanent maintenance of the gripping force are just a few important features when it comes to handling the most sensitive parts. Lifelong maintenance-free grippers, ISO clean room certification and lubrication with H1 greases are all additional parameters that make SCHUNK grippers indispensable for the life science industries. They have already proven themselves in countless applications.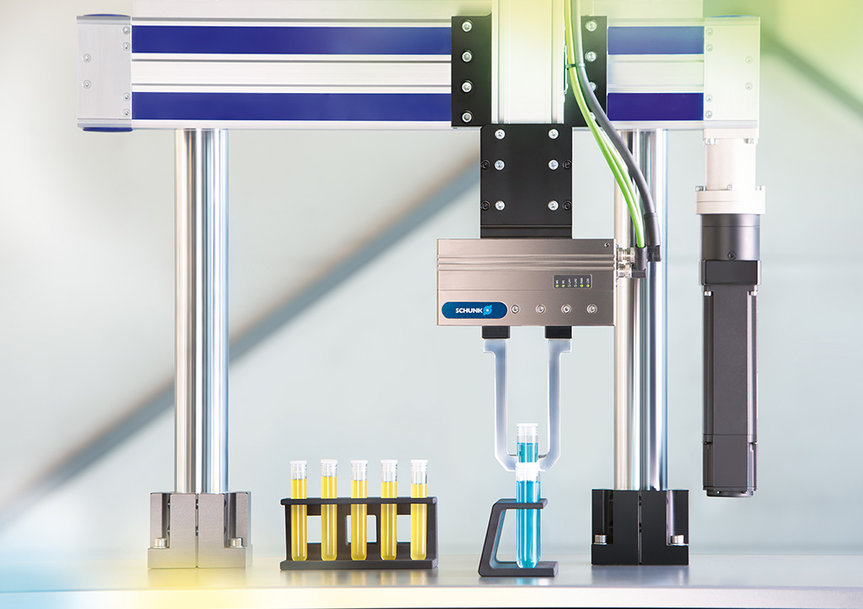 Can you give specific gripper applications as examples?

Of course. One example includes the automated production of acetabular implants made of a titanium alloy. The PGN-Plus-P centric grippers load cutting machines with different series and product sizes, which are handled by the SCHUNK SWS quick-change system. This is done in a way that is flexible and saves space. SCHUNK grippers also play a role in the production of highly sensitive balloon catheters, which are inserted in the arteries around the heart – they hold the material extremely precisely during the molding process. In addition to the ISO cleanroom certification of the production machine, this application requires stability against process-related lateral loads – a typical application for the PGN-plus-64. Our electrical modules such as the small components gripper EGP with IO-Link or the compact gripper swivel module EGS are often used in laboratories and are impressive in terms of cycle times and flexible finger positions.
Laboratories are usually inaccessible to the general public. Please give us an insight – which laboratory and pharmaceutical applications does SCHUNK handle?

SCHUNK is very active as an automation expert in laboratories and in the pharmaceutical industry and has amassed a lot of application experience. For example, when it comes to the mechanical handling of microbiological samples, where precision and dynamics are essential. In most cases, the handling solution also has to be designed to save space, but one way or the other it always has to be absolutely process-reliable. Another example is liquid handling, i.e. dispensing and pipetting for the preparation of sample analyses. What matters here is exact positioning and one hundred percent reliable handling. Robots with SCHUNK change systems are also used in the fully automated preparation of medications into different containers, for example into glass vials or IV bags. Depending on the container and on the process section, the robot uses different SCHUNK grippers. This allows special, patient-specific drug preparations to be achieved, such as those used with chemotherapies, for example. Small and medium-sized processing series can also be automated in this way.
Are there SCHUNK applications in the lab related to the COVID-19 pandemic?

Yes, a very current one, in fact, which has never before been installed in a laboratory in this way. It is a robotic cell that evaluates PCR test tubes fully automatically and was developed by a special machine manufacturer in southern Germany. At the heart of this system are two cooperating six-arm robots with five electrically controlled grippers for small components type SCHUNK EGP. These COVID-19 test tubes made of malleable plastic, must be gripped and held absolutely reliably. Under no circumstances anything is allowed to fall down in this application! SCHUNK solved this challenge by using the EGP 64 with IO-Link and integrated Softgrip software, ensuring that the sensitive tubes are gripped gently and reliably. An absolute innovation in laboratory technology! SCHUNK is also actively involved in vial filling processes, which has now become quite familiar, due to the fact that liquid vaccines are also transported in them.
Current technological trends include using nature as an inspiration for solutions – for example, its movements, structures, and materials. Does SCHUNK also use nature as a model?

Yes, nature inspires us especially when it comes to gripping and holding. This is how we developed the ADHESO, a gripper that uses the existing attractive forces at the molecular level – the Van der Waals forces. This natural operating principle can be observed, for example, in geckos when they move very quickly over a wide variety of surfaces, even upside down, without falling off. The adhesive surface of the ADHESO is designed in such a way that it accumulates the very many small intermolecular attractive forces, allowing the gripper to handle both light and heavy parts gently and without residue – without any external energy at all! The functional principle opens up many new areas of application in various industries, and is particularly interesting for hygienically sensitive environments. Because ADHESO works without particle emission, there is no abrasion. That is why ADHESO grippers are perfect for cleanroom applications in laboratories, the medical and pharmaceutical industries, and the electrical industry. SCHUNK made quite an impression at the German Innovation Award 2021 with this functional and sustainable gripping concept and was awarded as an innovation in the "Machines & Engineering" category.
www.schunk.com