www.ptreview.co.uk
Written on Modified on
The general trend towards the automation of assembly lines and system solutions in industrial production continues. This often poses challenges for machine and system builders because, despite the desire for standardization, the specific framework conditions and existing structures at customers' premises often require individual designs far-off from these standards.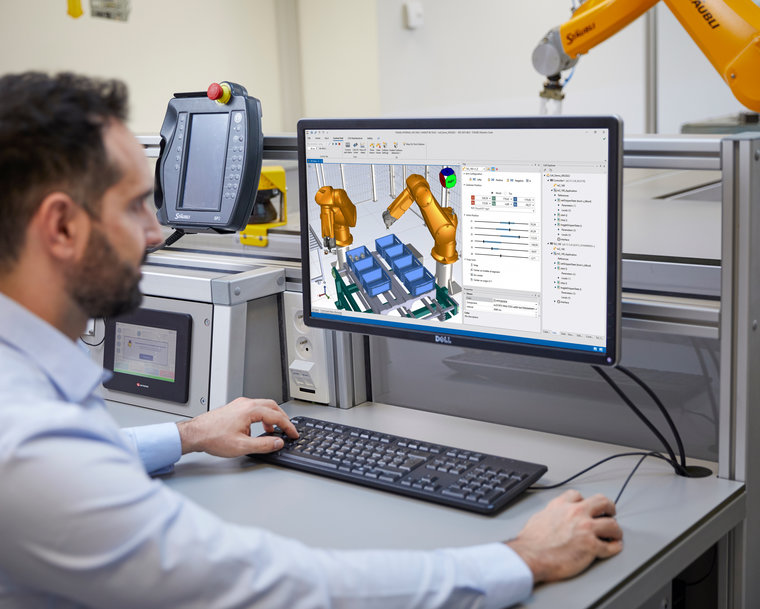 Stäubli Robotics Suite 2022 - a powerful PC environment for today's smart production.

The new Stäubli Robotics Suite 2022 impresses with its optimized and powerful new features that allows both standard and special solutions for complex automation scenarios to be readily visualized, simulated, validated, and realized.
The improvements that have been made to the Stäubli development environment and the numerous new functions extend across all scopes of usage, from design, simulation and setup debugging to production and optimization. An example of benefits for users is a significant reduction in the number of mouse clicks within the Suite, with visible results being generated quickly and easily. STEP files, for example, can be imported even faster via Drag & Drop, while positioning is now also more intuitive.
The Snap Replace function simplifies the transition from the static designing environment to the dynamic Stäubli development environment. Designers usually place static robot models in their design drafts at the preliminary stage. When this design sketch is transferred to the Stäubli development environment, the Snap Replace function helps to replace the existing static robot model with a dynamic one. Anchor points in the 3D setting are automatically identified and offered up for selection.
3D drag and drop import for faster individual cell and gripper concepts.

A new feature is that parts can be selected from an integrated Component Catalogue. If individual parts or assemblies are used frequently, users can store them in such a collection. This guarantees faster access and speeds up the process. The special feature is that, in order to reach the goal faster, a part is selected from the component catalogue and can be dragged and dropped to the desired position in the 3D layout.
The new Snap Function is used to position objects/components or to simply move the robot to a desired position without having to create position variables in advance.
Another new feature is the Position Optimizer, which guarantees the automatic identification of the ideal position for the robot to reach every point desired within its available defined working area.
The Stäubli Robotics Suite 2022 is enhanced by Screen Capturing, now an integrated feature. By pressing a record button, the user can capture the simulated robot tasks at each work step within the Stäubli Robotics Suite 2022 and send it to the customer as an mp4 file. This allows validation to be accelerated, processes to be coordinated and approvals or change requests to be communicated promptly.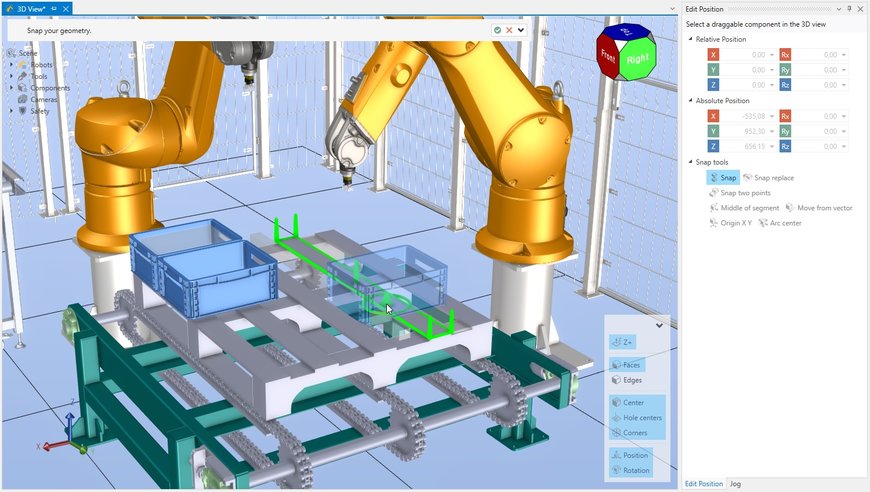 Snap function for easy component positioning as well as robot and tool positioning.

The Control Panel, now integrated in the Suite, supports the user in optimizing processes and movements during the simulation. Regardless of which adjustments are made in the layout, once defined, the specification of how the simulation of the robots should take place (operating mode, speed, application to be executed, collision detection active or inactive, etc.) dramatically reduces the time required for recurring work steps. This results in a clear time saver for other creative steps in the design, such as adjusting cell design, robots, components and processes until functionality, collision-free operation and interaction can be simulated without errors. In summary, the Control Panel facilitates better and faster results in development.
Another new feature, and a clear benefit when proceeding to the commissioning stage, is the direct transfer of the Safety Configuration between Stäubli Robotics Suite 2022 and the CS9 controller. Whereas robot programmers previously had to import the Safety configuration into the robot controller via multiple, sometimes complex, intermediate steps, direct transfer from Stäubli Robotics Suite 2022 is now standard.
The basis for many of these new possibilities are down to the powerful new 3D engine, reliably delivering the sort of realistic representation that was previously reserved for the B2C and gaming sector. Smooth, jerk-free, 3D representations, even when simulating extensive production lines, are displayed down to the smallest detail in high resolution, thereby making work easier.
This powerful new 3D engine was achieved in partnership with Spatial Corporation, a division of Dassault Systèmes. Spatial's interoperability, modeling, and visualization SDKs easily integrate together for higher performance capabilities with increased ease-of-use. When particular customizations were needed to complete the workflow necessary from Spatial's components, Spatial experts were put to the task of making the necessary improvements, allowing the Stäubli team to focus on their area of specialty.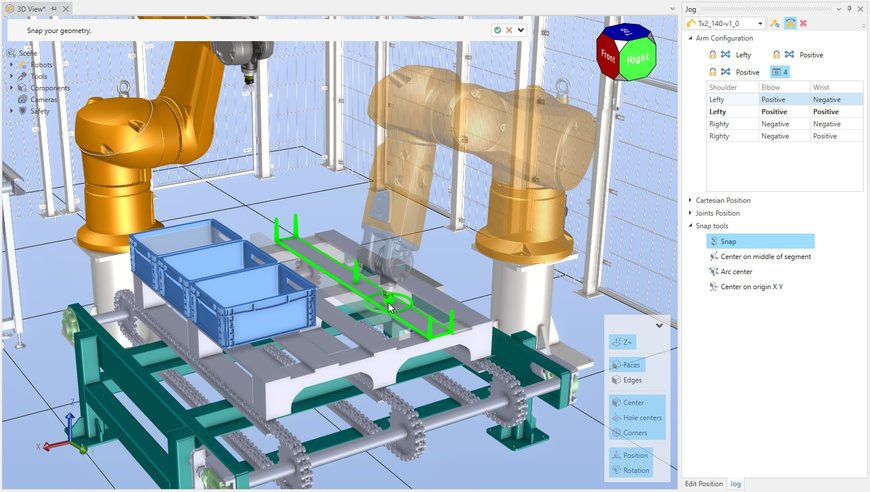 Integrated screen movie capturing and visualization of required joint range for evaluation of effective joint range limitation.

"I am pleased to have assisted Stäubli over the past two years by playing an integral role in support of the development of SRS." Said Zhe Gao, Developer and Industry Process Consultant at Spatial. "In particular, I welcomed the opportunity to help customize the integration of Spatial's components into Stäubli Robotics Suite and ultimately bring real value to Stäubli's customers worldwide."
"Today, Spatial provides us with a complete range of tools with high-performance and reliable components, but beyond the purely technical side, I particularly appreciated the quality and responsiveness with which Spatial accompanied us" said Stéphane Blanc, Head of R&D robotics user software. "The open-mindedness and willingness to understand the specific needs of our business from Spatial's experts has enabled us to establish real, collaborative work with our R&D teams, signaling the beginning of a solid and long-lasting partnership."
New functionalities and this modern 3D engine make the latest 2022 version of the Stäubli development environment an extremely powerful engineering tool that impresses with its high performance, even in elaborate and complex simulations, all while being a pleasure and easy to use.
www.staubli.com