www.ptreview.co.uk
Written on Modified on
Perfect Power Solution for High Efficiency Data Centers
Delta, a global provider of power and thermal management solutions, recently unveiled its
High Power Density Bi-Directional DC-DC Converter U50SU4P162
for data centers, super computers, and other high-tech systems. Emphasizing the requirement of high-efficiency, high-density data centers, the
U50SU4P162
provides 48V / 12V bi-directional conversion, and features high power density of up to 3,000 W/inch3 with a small footprint (23*17.4*10 mm) and up to 98% conversion efficiency.
Dr. Wei Tang, the R&D Director of the DC-DC Converter Business Unit (DCBU), pointed out that the rapid pace of technology and internet development has dramatically changed our daily lives. According to a forecast in the CISCO 2020 Annual Internet Report*1, the development of 5G technology and onboard AI for e-vehicles is estimated to add 20% ~ 30% to the annual growth rate of data centers during 2020 to 2025.
In addition, the impact of the COVID-19 pandemic has boosted on-line activities for recreation, commerce, technology, and many industries in the global market. The resulting trends for social media platforms, online games, and remote working / studying have greatly raised the need for highly efficient, reliable 24/7 operating data centers. Building more data centers means more power consumption, leading to higher demands for the power usage effectiveness (PUE) of facilities and devices.
Many suppliers are looking for high efficiency, high power density solutions to facilitate equipment upgrades. For instance, data centers and high-voltage AI computing cards usually adopt 12V bus power output; however, the high DC power consumption and voltage drop effect the systems in a negative way. Manufacturers then turned to the use of 48V to solve the issues while most server PCBs remained 12V, making the power conversion and power supply even more complicated and difficult.
"We are seeing a significant increase in the requirement for 48V / 12V bi-directional DC converters, especially the AI computing cards. The U50SU4P162 converts 48V into the intermediate bus voltage required by the downstream voltage regulator. It can also convert 12V into 48V to power the downstream system so as to satisfy the needs of different power systems," said Dr. Tang. "We are using innovative technology to comprehensively develop new products (power modules) with strong capabilities and high scalability for new data centers. The U50SU4P162 is the key to bringing highly efficient, user-friendly, value-added power solutions to customers."
The U50SU4P162 DC-DC Converter provides 48V / 12V bi-directional conversion, 800 W output power, and 1 MHz switching frequency. The ultra-high power density (up to 3,000 W/inch3) allows the U50SU4P162 to achieve 98% power conversion efficiency in a compact size of 23*17.4*10 mm. The ability of handling large load capacitance (up to 10,000 µF) and double-sided heat sink with low thermal resistance also help to ensure high-performance computing for high-density data centers.
Another highlighted feature of the U50SU4P162 is the PMBus (power management bus) protocol. It allows the converter to transmit power data to system controllers for efficient monitoring and management. Delta is also outpacing others by offering customization services for power configuration and optional heat sinks to help customers build advanced systems.
With advanced functions, high power density, small footprint, and customizability, the U50SU4P162 ensures the high efficiency of data centers, super computers, and other high-tech systems. So when you release social media posts to share your life's precious moments with your family and friends, enjoy online games, or work/study from home due to the pandemic, Delta is supporting data centers to ensure smooth, reliable 365 operation for a smarter, better future for you!
Contact us at
This email address is being protected from spambots. You need JavaScript enabled to view it.
to acquire detailed product information and sales service, and visit
www.deltaww.com/dcdc
to learn more about Delta's DC-DC converters.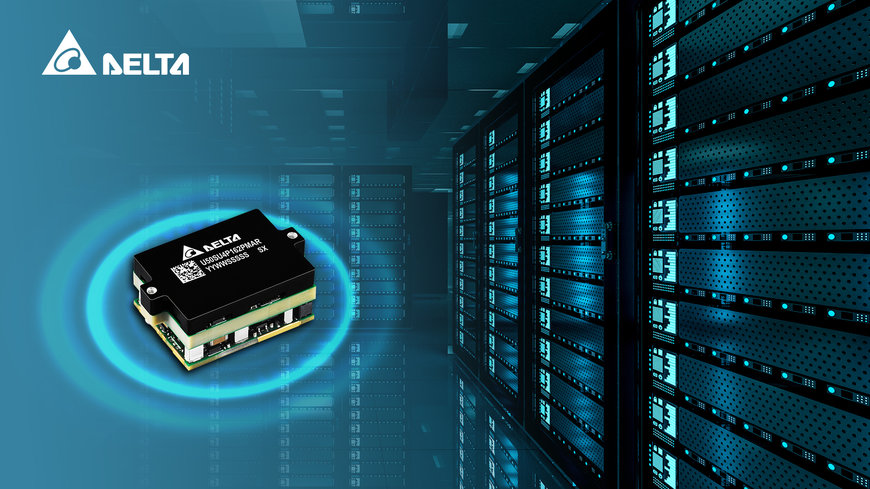 High Power Density 48V / 12V Bi-Directional DC-DC Converter features:
- Bi-directional power delivery,
fixed ratio factor: K=4
- High side input range: 38 to 60V
- Low side input range: 9.5 to 15V
- Up to 800W in a compact size
(28.0 x 17.4 x 10.4 mm)
- Peak efficiency up to 97.9%
- Supports PMBus and parallel function
- Output capacitance range up to 10,000 µF
- Switch frequency up to 1,100 kHz
- Dual cooling with low thermal resistance