www.ptreview.co.uk
Written on Modified on
For fully automatic pallet and workpiece handling – Automation in a secure, around-the-clock process.

The RS 1 robot system is the complete combination cell for pallet and workpiece automation. This Hermle innovation delivers a convincing mix of flexibility and productivity: The rack storage concept provides for remarkably long autonomous runtimes, gripper and adapter changing is automatic, and the fully functional setup station allows for parallel setup of pallets and workpiece carriers during operation. This makes the RS 1 the right automation solution for many scenarios. But that's not all. The decision:
- single or dual machine system. TheRS 1 robot system is highly adaptable. It can be used with one machine or with two machines networked with each other for maximum output. Transitioning from one to two machining centres is also possible at a later time, as is the addition of a third rack module, cleaning plant, a measurement machine or a driverless transport system (DTS).
With an installation area of just 12 m2, theRS 1 robot system always offers free access to the working area of machines, regardless of whether one or two machining centres are docked.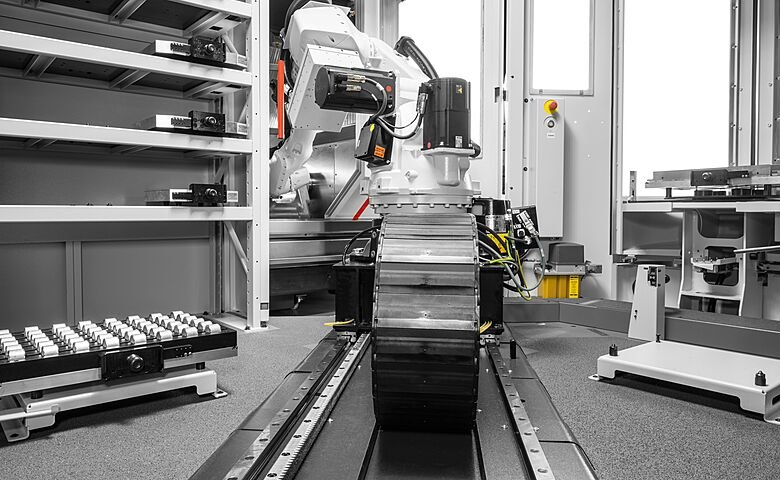 RS 1 robot system with the robot travel axis between the two machining centres

Variable machine selection

The overarching RS 1 concept is compatible with a range of Hermle machining centres: C 12, C 22, C 250, C 32,C 400 or C 42. It makes no difference whether two identical or two different machines are networked with each other. For one machine, the automation is controlled with the Hermle Automation Control System (HACS) or with the SOFLEX manufacturing control system, for two machines always with SOFLEX.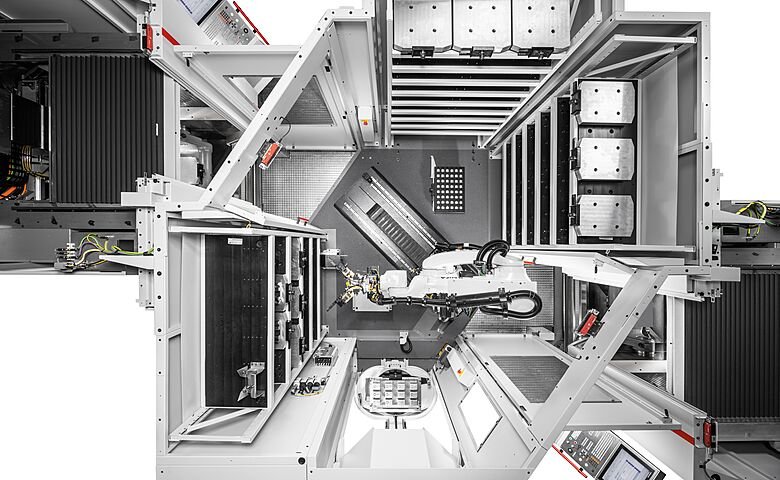 Top view of the RS 1 robot system adapted to two HermleC 22 U machining centres on left and right – up to three storage modules ensure long autonomous runtimes while accommodating pallets, universal dies and grippers

Automatically produce more

The NC-controlled long-stroke clamping devices and grippers allow for fully automated workpiece changing. The innovative RS 1 robot system automatically increases productivity through its interplay with the individual parts provisioning system via steplessly adjustable universal dies. And here is one of its greatest advantages: Thanks to the extensive range of gripping and clamping options, NC grippers and automatically adjustable clamping devices fit workpiece blanks, practically eliminating manual intervention.
Three individually selectable rack storage modules ensure optimum provision of parts. For pallets measuring up to 398 x 398 mm or universal dies in five variants for cubic or cylindrical workpiece blanks – there is a place for everything in the rack storage modules, even the wide range of grippers or clamping devices. Another productivity plus-point: Of course the machines can be operated autonomously.
Easy handling

The RS 1 is fully integrated into the Hermle software environment and is correspondingly easy to operate via the touch screen – in fact, like a single machine. There is hardly any need
for manual intervention.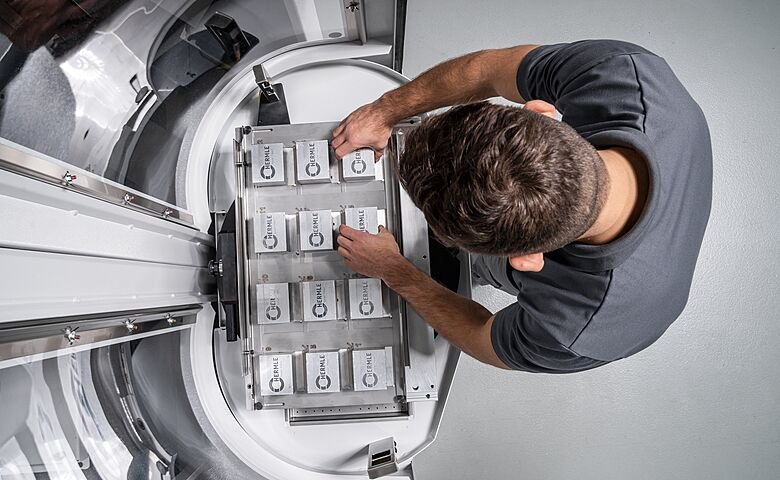 Setup station of the RS 1 robot system

Hacs

The Hermle Automation Control System is the proven control software from Hermle. Intuitive operation and a clear structure help to prevent errors. The operator has a clear view of all relevant data including system overview, work plans, sequence plans and tool overview. Forecast of runtime and tool usage. All workpieces are automatically ranked in the sequence plan as soon as they are set up. The priority of machining can be adjusted at any time. And all of that with drag and drop plus optimum visualisation.
www.hermle.com