www.ptreview.co.uk
Written on Modified on
Flat, precise, power density: the universally deployable, mechatronic rotary unit SCHUNK ERT enables uniform, flexible and dynamic rotary movements that are virtually wear and maintenance-free within compact spaces. Even with the optionally available brake, which is actuated directly via the controller, the height of the SCHUNK ERT remains unchanged. This is a novelty on the market and creates excellent prerequisites for the most compact assembly and handling applications in the field of electronics, medical technology, laboratory technology, pharmaceutical, cosmetics and solar industry, but also for space-optimized applications in the field of mechanical engineering, laser machining or for packaging processes.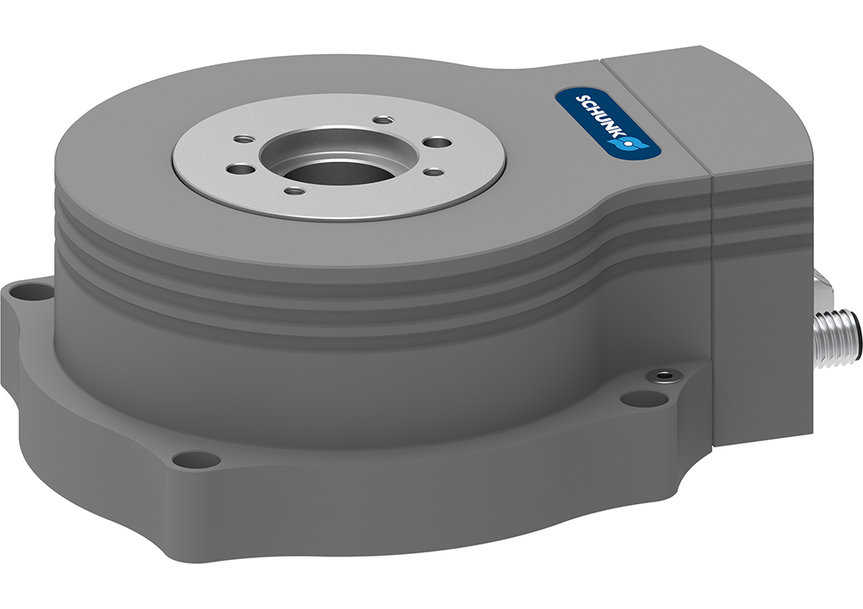 The unit can be used as a rotary table for components, assembly groups and tools, and can also be used as a rotary module in gantry solutions, as a rotary indexing table or a high-precision positioning module. It is based on a permanently energized torque motor, is equipped with an absolute-value transducer, and also ensures immediate repeat accuracy of 0.01° with no need for a reference run, as well as quick response times and high torques. A large-dimensioned center bore allows cables and hoses to be fed through and enables the use of a camera.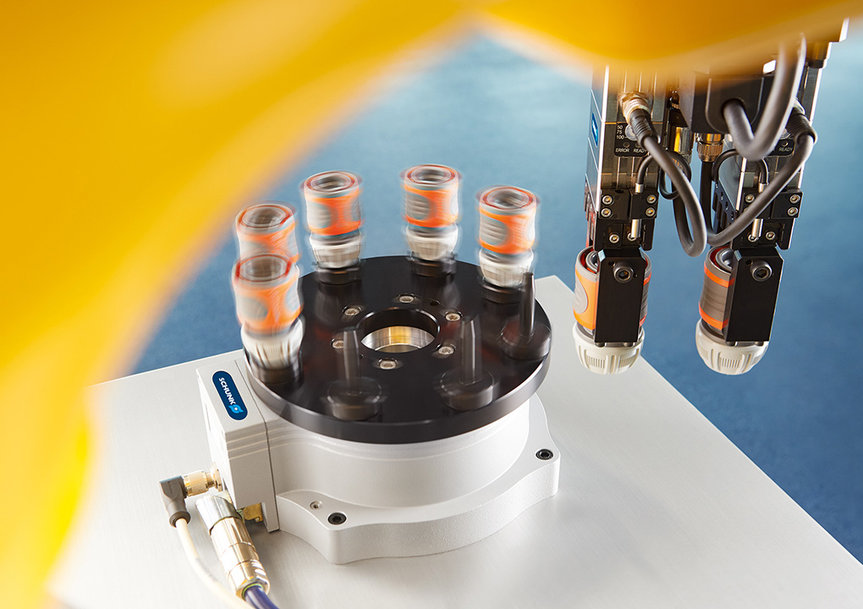 The SCHUNK ERT rotary unit can be used as a rotary indexing table but also as a handling module on gantry applications.

Numerous variants and options


Drive controllers from different manufacturers can be used, and therefore the greatest possible flexibility in the control and regulation strategy is ensured since thee modules can be seamlessly incorporated into already existing system architectures. In the event of a standstill the optionally available unit with a brake reliably fixes its position without changing the height of the unit, even if an external force effects the unit. As a first step the versatile module will be launched onto the market in three sizes 12, 50 and 300 with rated torques of 1.5 Nm, 7.8 Nm and 32 Nm, outer diameters of 120 mm, 167 mm and 277 mm and maximum permissible mass moments of inertia of 0.07 kgm2, 0.39 kgm2 and 5.53 kgm2. It will be powered and activated via standard plugs (M12/M17). In a second configuration, optional rotary feed-throughs for hoseless or wireless feed-through of electrical signals, bus signals or fluids and other dust and splash-proof variants (IP54) are planned.