www.ptreview.co.uk
Written on Modified on
In 2020, FlexLink, the pioneer and market leader for material flow solutions, celebrates its 40th anniversary.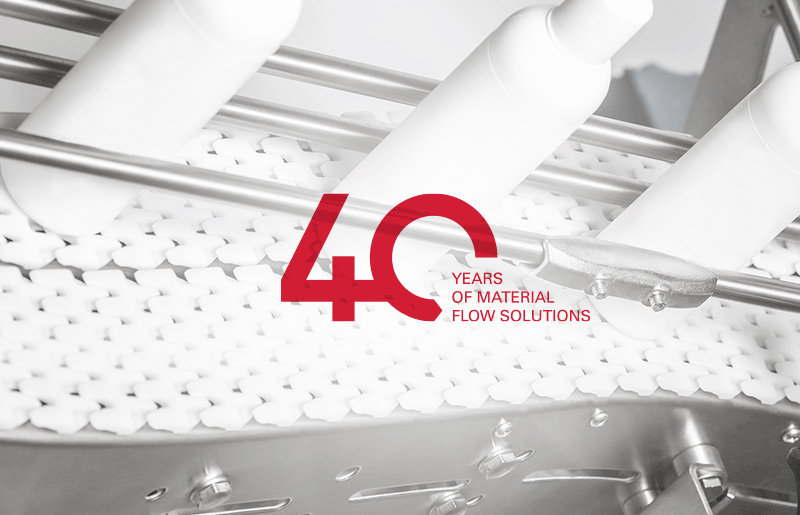 Part of the Coesia group, FlexLink, is a global, reliable partner for leading manufacturers within Fast Moving Consumer Goods (FMCG), Food, Automotive, Batteries, Pharmaceutical, Tissue & Hygiene, and Tobacco markets. Over the decades, distribution centers and manufacturing sites have been opened across Europe, North America, and Asia. This has allowed for further expansion, with global operating units, even in emerging economies. Today FlexLink is represented in more than 60 countries and operates directly in 26 of them.

Forty years ago, FlexLink transformed industrial production through pioneering modular conveyors that allow producers to create flexible production lines. This concept has been designed, scaled up, and commercialized worldwide since the 80s. The rapid growth was due to geographical expansion, possible with the help of the parent company SKF.

The conveyor platform was created with a modular concept that was also reflected in the naming of the products. In fact, the first conveyor range was called, XL, designed for light goods such as bearings, packaged food, or lenses for glasses. It was launched in 1980 and has been one of the company's biggest-selling platforms since the beginning. FlexLink launched XS for small goods such as syringes, vials, electrical bearings, followed by XM for medium-sized goods such as plastic bottles, creams, jars, and XH for heavy goods such as engine parts, shafts, or boxes.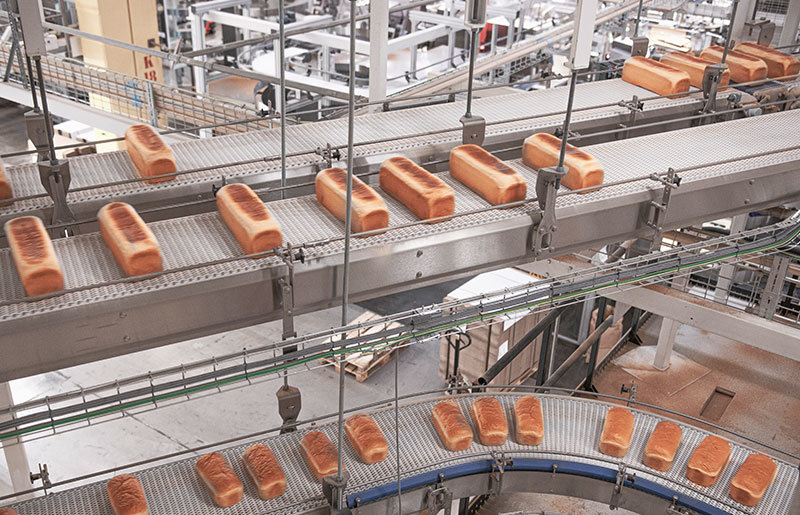 Motivated by the success of the conveyor systems, the company continued with further customer-centric research and development, leading to the introduction of further products. The first pallet system and wedge solutions were breakthrough innovations at that time. The strong growth continued throughout the 1990s as FlexLink invested in a platform dedicated to the automotive market. The XK heavy-duty platform proved to be the perfect match of robustness and flexibility, meeting these increasing demands for the market.

Following growth in aluminum conveyors throughout the early 2000s, product innovation focused on modular stainless-steel conveyors and industry-focused solutions, such as Dynamic Flow Concept, which creates optimal line balancing and therefore increased production output.

Around the 2010s, the launch of the X85 conveyor showed a renewed interest in the aluminum beam conveyors, and additionally, the X65 platform was launched. FlexLink also introduced the FlexLink Design Tool, innovation in how the customer can design their line and simulate production flow.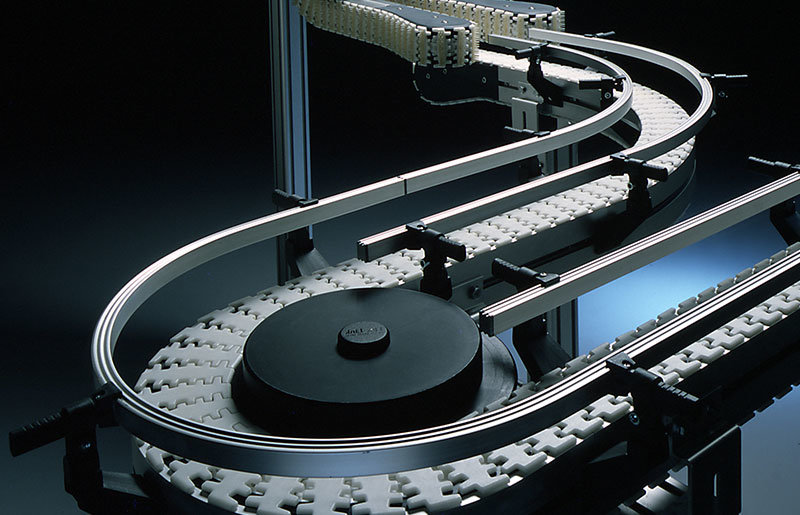 In 2012 FlexLink joined Coesia. Since then, the focus on innovation and user experience has been strengthened even further. The first collaborative robot palletizer (RC10) has been developed in close collaboration with a leading global consumer goods company.

A few years later, a flexible industrial palletizer (RI20) was launched, allowing the company to complete the offer for the end-of-line process. In addition to the advanced robotics offer, 2020 also sees the expansion of the stainless-steel conveyor range, with the 70mm system (X70X) ideal for handling smaller, more sensitive products such as dairy products. Improvements have also been made in operator and product safety, with the new generation of plain chains.

"The demands of consumers are changing very fast. Manufacturers must cope with new challenges such as unpredictable forecasts, quick changes in behaviors, and extreme sensitiveness on total costs of ownership. FlexLink is always striving to help brand owners to increase efficiency, become leaner, and produce goods smarter, quicker, and at a lower cost. We have continued to evolve and develop with our customers," says Paolo Pusceddu, Chief Sales Officer. "We gained a lot of experience from our 40 years of material flow solutions and will continue developing products and solutions that provide our customers with the best answers to their production challenges."

Significant milestones:

1980s

Launch of XS, XL, XM, XH conveyor platforms
Development of the first pallet system and wedge elevator
Introduction of the XK heavy-duty platform, developed for the automotive industry
Opening European, Asian, and American distribution centers
1990s

Launch of first wide conveyor platform XB
Development of Dynamic Flow Concept
Further geographical expansion with Sales Units and Manufacturing sites
2000s

Launch of X85 conveyor
Launch of X45 platform
Different acquisitions of leading automation companies in electronics
2010s

2012 Joining the Coesia Group
Strategic acquisitions in industrial automation, like Conveyor Division from Schuco
Launch of X65, modular belt conveyor and hygienic stainless-steel conveyor
Launch of FlexLink design tool (FLDT)
Launch of the collaborative palletizer, the RC10
2020

Launch of the industrial palletizer, the RI20
Extension to the stainless-steel portfolio with the X70X
Celebration of 40 years